Foreword
From the Book
Cowboys With Chrome Horses
"William Graham Carrington understands that America needs folk heroes and finds them throughout history (and recruits them, sometimes against their own better judgment). He brings together in this book many different cultural identities but centrally locates a new breed of cowboy folk hero – and this motorcycle-riding individualist is a person that Carrington obviously knows well.
William Carrington's official involvement in major motorcycling events such as Rolling Thunder®, a rally that is in celebration of the essence of American folk heroism, and his many years on a motorcycle himself, give his words that gas-and-oil truthfulness. If anybody can discover a new breed of cowboy, then it is, indeed going to be William Graham Carrington."

~ Dr. Martin Jack Rosenblum,
Historian at Harley-Davidson Motor Company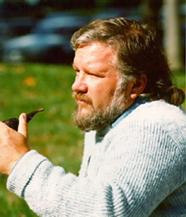 William Graham Carrington is currently a freelance journalist who has successfully written, published, and nationally marketed a book of poetry, titled Tomorrow's Promise and the Pulitzer Prize nominee on motorcycling, titled Cowboys With Chrome Horses.

He has recently completed a second poetry book soon to be published, titled One Heart Beyond Tomorrow which includes his signature poem One Heart.

A popular and accomplished public speaker and lecturer, he performs his collective works for audiences of a variety of ages and lifestyles all across America.

Since 1992, Carrington has written articles on travel, history, business, personality profiles, and events, most of these featured in national or regional magazines.

Carrington began writing motorcycle-touring articles in 1993; and in 1995 traveled across the U.S. under contract to the Harley-Davidson Motor Company writing a series of five event articles for the Harley Owners Group membership magazine. During the period from November 1995 to February 1996, he had six pieces published in five national magazines. His poetry on motorcycling in America has been featured in several issues of the Sturgis Rally News magazine and other publications and performed live in two national video productions filmed at Sturgis in 1997.

The poems, Name On A Wall and Rolling Thunder® are featured on two Rolling Thunder® commemorative posters. Articles and poems on a variety of aspects of motorcycling have appeared in issues of such magazines as American Iron, Thunder Alley, Biker, Easyriders, VQ, Motorcycle Events, Bikes & Spikes, and Sturgis Rally News.

Prior to 1992, Carrington's writing credits include publishing two single-issue target magazines, serving as editor of three newsletters, two regional and one at UNC-CH, and twenty-nine years of writing ad copy for both broadcast and print media. At age seventeen, he began a career in radio, which lasted until the spring of 1973. He then evolved out of Radio and into commercial photography for the production of printed advertising pieces and brochures. In 1988, he returned to school at the University of North Carolina at Chapel Hill and graduated in 1993 with a Bachelor of Arts Degree in Journalism and Mass Communication.

Additional background includes flying since 1962, five years of racing sports cars, working as an extra in several movies, and coordinating concerts and major events. One of the events resulted in the Vistascope audiovisual program for the Cyclorama in Atlanta.